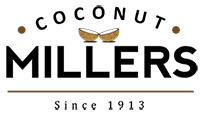 Our brand was born of our love for the two beautiful 'island' countries we call
home, Ceylon (Sri Lanka) and New Zealand.
pure Ceylon – because our range of pure coconut products are grown and produced only in Ceylon.
KOKONATI because it is the Maori word for Coconut!
..and also because it pronounces how 'nutty' we are about our coconuts!
Ceylon, a British crown colony between 1815 and 1948 is now known as Sri Lanka, but we prefer to call it Ceylon because it definitely sounds more exotic and 'pure Ceylon' is a brand in itself , bringing to mind the fresh unique essence of Pure Ceylon Tea!
Being a fourth generation coconut oil trader from Sri Lanka on the verge of migrating to New Zealand, we were elated when the demand for Organic Virgin coconut oil went into overdrive in the year 2012! And so began pure Ceylon KOKONATI a range of high quality, comfortably priced coconut products that we launched into the New Zealand market. Our products are now distributed all across the globe in New Zealand, Australia, Poland, Sweden, Uruguay, Japan, Hong Kong and more!
We are Enterprising Enterprises Ltd, 100% New Zealand owned and operated.
While we love our brand and are thrilled with the loyal following there is for pure Ceylon KOKONATI, private labelling is also an option we extend to our bulk buyers.
So 'enterprise' with us as we offer you products and services that embody the true essence of Ceylon, from one pure nation to another!
Providing you with the best of services in acquiring purely organic coconut and tropical produce by sourcing it from the best producers at premium prices, only from Ceylon.